---
J.A.N Associates is one of the computer accessories frames working with fame since 1989. J.A.N Associates is recognized as a trustworthy provider to help its clients, along with its highly experienced technical expertise, has been cooperating all kinds of technical multinationals, NGOs and many private and public organizations. The company is dedicated to serving the onshore and offshore clients with the expertise. By providing such services with efficiency, the company has reached up to the top of the development, since its insertion in the year of 1989. J.A.N Associates has the client authentication with satisfaction. Company's devotion, authenticity, and proficiency refer to strength on others. J.A.N Associates believes in hard work with targeted outcomes.
J.A.N. Associates was established in 1989, its initial operation was only to supply computer accessories, and since its inception, our objective is to provide the turnkey solution as well as to market computer and related products. With highly experienced technical expertise we provide all kind of technical multinationals, NGOs and many private and public organizations to continue expansions in our operation we have established that every customer should be our best promoter.
Since 1995 JAN Associates is the Sole distributor in Bangladesh for Canon Image Communication Products and at this moment we represent entire range of Canon Digital Camera (DC, DV, EOS SLR), Canon Inkjet & Laser Printers, Scanners, Multimedia Projector and all models of Canon Image CLASS LASER Multi-function Printer that consists of Printer, Scanner, Copier & Fax machines. JAN also represents Canon Large Format Printer (LFP) & Document Scanners; those are from Canon Business Imaging Solution Product.
BCS former president Mr. Kafi becomes lifetime chairman of ASOCIO.
Former president of Bangladesh Computer Samity (BCS) Abdullah H. Kafi has been awarded the honorary title of 'Lifetime Chairman of Association' of Asian-Oceanian Computing Industry Organization (ASOCIO), the largest information technology organization in the Asia-Oceania region.
Abdullah H Kafi, who is the life chairman of the association, served as director, treasurer, general secretary, vice president and president of BCS for various terms.
At the Association World Summit held at Resorts World Sentosa Convention Center in Singapore on October 28, Association Chairman David Wang, newly elected Chairman Bernak, WITSA Chairman Dr. Shaun Seah, Executive Director Dr. Den and Chairman of IT Federation of Singapore, Hong Kong and Vietnam presented the 'Lifetime Chairman of ASOCIO plaque to Abdullah H. Kafi.


Also, Bangladesh won awards in four categories at the ASSOCIATION World Summit 2022. FIFOTECH was honored in the 'Outstanding Tech Company' category. Department of Information and Communication Technology (DOICT) in Digital Government category, Diabetic Association of Bangladesh in Health Tech category and Bangladesh Telecommunication Regulatory Commission (BTRC) in Environmental, Social and Governance category.
BCS President Eng. Subrata Sarkar said, "The achievements of former BCS President Abdullah H Kafi in the association are extraordinary. BCS will gratefully acknowledge his achievement. Achieving awards in four categories announces our capabilities in ICT to the world. Digital Bangladesh is now all over the world. BCS has been dedicatedly conducting activities in building Smart Bangladesh. I congratulate each organization that won the award and hope that the projects will be accelerated by winning the award."
Information technology sector organizations of 22 countries in Asia and Oceania region are members of this organization. Bangladesh Computer Society (BCS) is the only member of the association. Every year BCS nominates various projects for 'Association of Honours' which plays a special role in IT.
Mr. Kafi has got the highest award of ASOCIO- The ASOCIO Honorary Award.
JAN Associates managing director and Bangladesh Computer Samity (BCS) former president Abdullah H Kafi got the ASOCIO highest award 'The ASOCIO Honorary Award'. ASOCIO Vice-Chairman and BCS former president Ali Ashfaq was also present at the ceremony.
Mr. Abdullah H Kafi to participate at CANON Expo in Shanghai in 2016.
Top level officials of Canon including Fujio Mitarai, chairman and CEO of Canon Group; Jing Dunquan, vice chairman of The Chinese People's Association for Friendship with Foreign Countries, vice chairman of Sino-Japan Friendship Association; Tsuneji Uchida, president and COO, Canon Group; Jane Le, president and chairman of Le Bao Minh, Vietnam; Irwan Kamdani, president director, PT DataScript, Indonesia; and Hideki (Howard) Ozawa, managing director of Canon Inc., president and CEO, Canon (China),are suppose to officiate the opening of the Canon Expo 2016 at Shanghai International Convention Center.
Asia is becoming the world's new economic centre and its growth have become the power engine of the global economy. It is for sure that Canon considers Asian market as an important one to contribute to Canon's growth. And we are happy that JAN associate is working its best to being a part of this market growth of Canon. Such expo is an opportunity for me to let ourselves share and learn from others Asian leaders working for canon. And this experience will help us to do more better in future.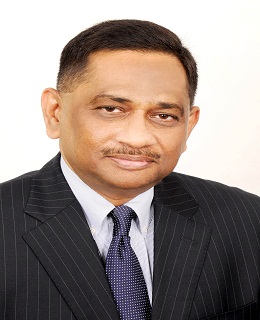 Mr. Kafi
Managing Director.
J.A.N Associates | Canon BD